Before start using the device check the following points:
---
Connect the power adapter to the main.

Once you've plugged the light source, it will stay lit for 10 seconds (a white light) and thereafter it will work in automatic mode (see next section).
Use with switches
---

This input  switches the device on and off. When it is switched on, the lighting will change automatically and activate the bubbles.

This input changes the lighting colour cyclically, transitioning through red, green, yellow, blue, orange, white and off.

This input connect and disconnect the bubbles.
Use with wireless controllers
---
This device can be controlled with the wireless Button 6 controller or SHX Die.
Programme the Button 6 controller to work on the fibre optics setting to change the colour of the lighting directly from this wireless controller.
You can also turn the device on and off from the wireless controller.
Control with an Android tablet
---
Use the Luminea app to control the Luminea Tube directly from an Android tablet.
Follow these steps:
Link the Luminea Tube to the tablet.
Select the lighting device from the list that appears in the app.
Use the activities and features in the app to control the lighting device.
Refer to the help section in the app for information on how to use it.
SHX use 
---
In the SHX software you can control the lights of the device.
In the SHX app, you will also find a tab that allows you to change the colors of the device: you can choose between different colors or activate the function of automatic color changes.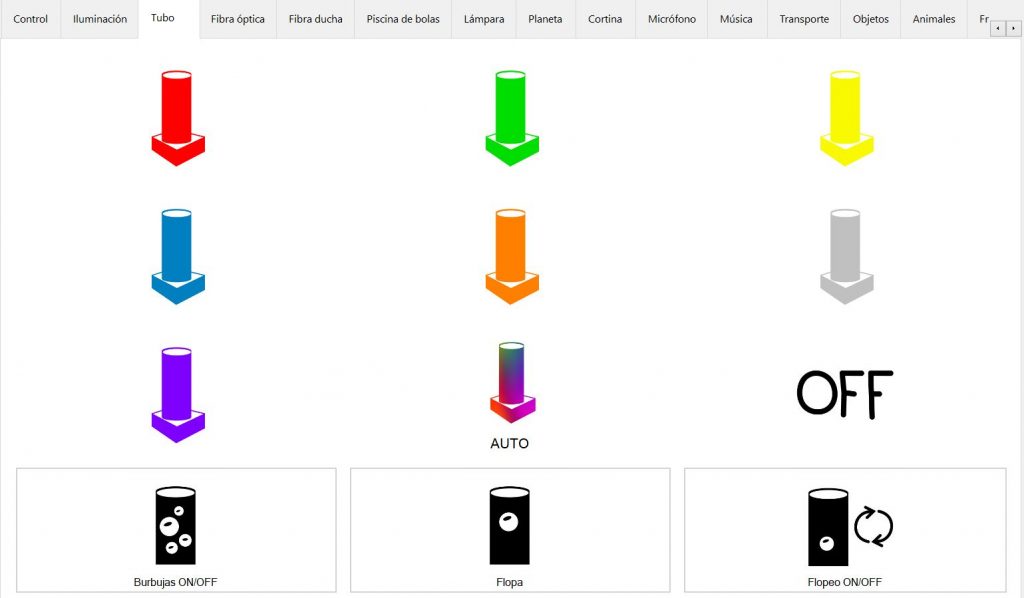 In the SHX application there's a power off button, you can turn off the device with it.
You can configure the different contents of the SHX application as well, to create the effects you want to associate with that content. See the manual of the SHX application to learn how to create these contents, (automatic mode, according to the SHX scenes, by sound, simultaneous with the other elements or independent)